Keep those you love close to your heart with personalized dog tag engraved with picture. These dogs tags are affordable, cute, and are a great way of carrying loved ones with us everywhere we go. Customizable are great keepsakes, but they also make a great gift! They are customizable to the person, which makes it a great product.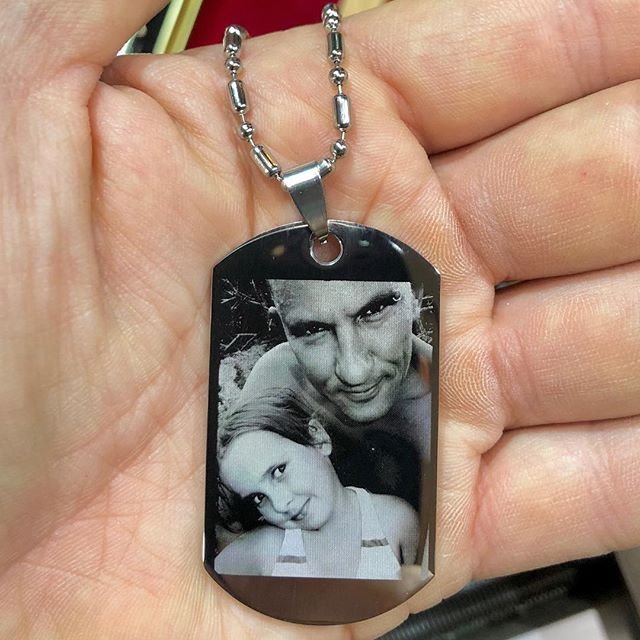 Who Would Enjoy A Dog Tag Engraved With Picture?
The engraved pendant is a wonderful product that allows people to engrave their own dog tags, and preview it before purchase. The product comes in all shapes and sizes! Get a simple oval photo engraved dog tag, or make it heart shaped. The heart shaped engraved pendants are perfect for family pictures. These are simple, personal gifts that are great for extended family. They're affordable, and will make everyone feel happy and honored to wear them. The price of the personalized dog tag ranges from 8-13 dollars, based on the size. The sizes of these pendants are 32/20 mm, 38/25mm, and 50/28mm. The sizes of the heart shaped dog tags are 24/24 mm, 28/33 mm, and 40/43 mm.What a steal!
Is This Photo Engraved Dog Tag Gift Worth To Buy?
This product is highly durable and looks clean and glossy. They are made of polished stainless steel and it's water resistant. Take it in the pool or the shower and it will still maintain its shiny coat! These engraved pendants are unique, and look nice with every outfit. Plus, both sides of the dog tag gift can be engraved with picture or text. This makes choosing what goes on the dog tag gift so much easier.
These pendants are great for people who lose their things easily, because they're attached by the neck. The chain that comes with the custom engraved pendant can be worn with the dog tag, or without. It looks classy all on its own!
The quality of this product is guaranteed. For such a low price, these amazing photo engraved dog tags are superb, and last a long time. Additionally, this product includes great features, like: the dog tag, a 60 cm ball chain, and a small gift bag. This is truly an affordable product that is worth every penny.
If the product is broken, lost, or damaged… no worries! The company offers a full refund. This is a great amenity that few companies abide. If the quality is not what is expected, you'll get your money back. Don't miss out on such a great deal!
All in all, the photo engraved dog tag is a great gift for all occasions. People can give this present to their friends, family, and acquaintances. It's durable, affordable, sleek, and it can be fully refunded! What more could a person want from a dog tag? Stand out in the crowd and keep your family close with a personalized dog tag.